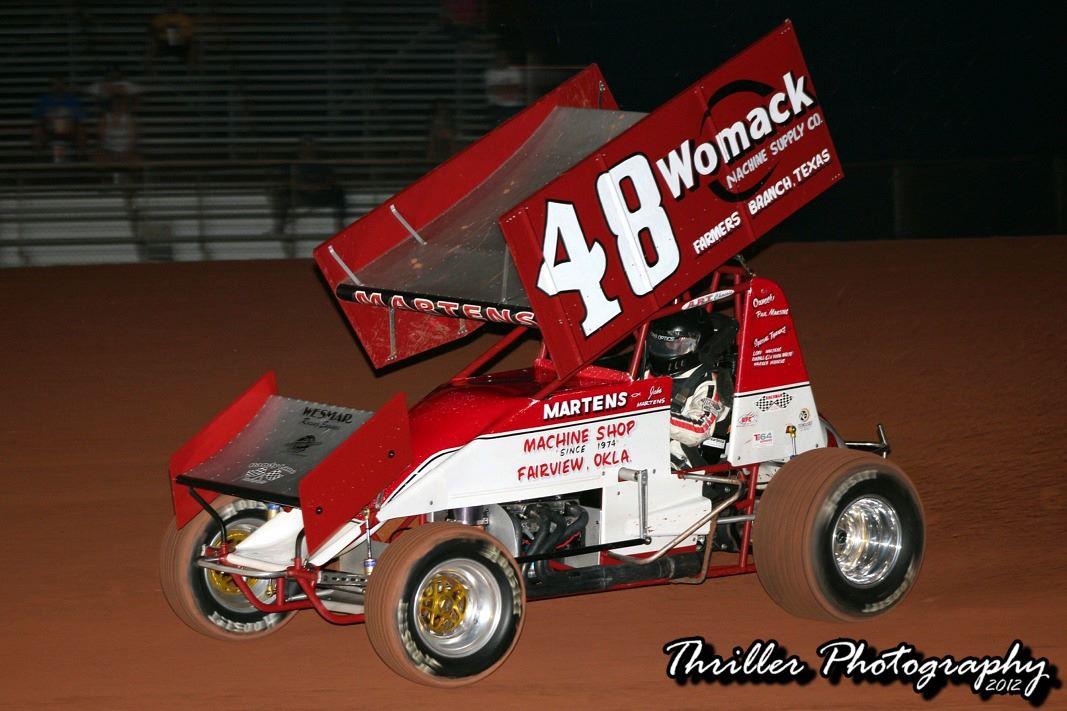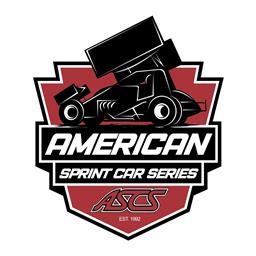 ---
Victory Belongs to Jake Martens with ASCS Lone Star Region
Bryan Hulbert - Texarkana, Arkansas (September 8, 2012) Jake Martens has been close to victory several times over the past seven years but Saturday night the Fairview, Oklahoma driver finally broke into ASCS victory lane, doing so at the Sixty-Seven Texarkana Speedway with the Oil Medics ASCS Lone Star Region.
Drawing the pole in the night's 25 lap feature event, Martens held off Lucas Oil ASCS veteran Gary Wright along with surviving a myriad of cautions and a competition red on lap sixteen. Wright would hold onto the runner up spot with Travis Rilat coming from tenth to third.
After transferring out of the night's first B-Feature, Joe Wood Jr. charged from fifteenth to fourth with Claude Estes coming from fourteenth to fifth.
Ryan Beechler, who finished second in the first B-Feature, also mounted an impressive run from seventeenth to sixth with Allen Kulhanek seventh and Brandon Hanks eighth. Taking advantage of an off weekend with the Lucas Oil ASCS presented by MAVTV, series competition director Matt Ward took some time behind the wheel of the Print Place No. 1x to grab ninth with Howard Moore making up the top ten.
The Oil Medics ASCS Lone Star Region
67 Texarkana Speedway -Texarkana, Arkansas
September 8, 2012
Car Count: 27
Heat 1 (8 Laps): 1. 22-Koby Barksdale; 2. 29-Travis Rilat; 3. 27-Andy Shouse; 4. 11S-Joe Wood Jr; 5. 74E-Claud Estes III; 6. 69-Larry Howery; 7. 2-Randy McKinney
Heat 2 (8 Laps): 1. 11-Justin Melton; 2. 21T-Ray Allen Kulhanek; 3. 3H-Brandon Hanks; 4. 26S-Howard Moore; 5. 32K-Robert Richardson; 6. 16-Koty Adams; DNS 45-Martin Edwards
Heat 3 (8 Laps): 1. 9-Gary Wright; 2. 0-Andy McElhannon; 3. 11C-Matt Covington; 4. 6-Ryan Beechler; 5. 17-Aaron Reutzel; 6. 25-Blake Hahn; 7. 4X-Shawn Petersen
Heat 4 (8 Laps): 1. 23-Seth Bergman; 2. 48-Jake Martens; 3. 11G-Mike Goodman; 4. 1X-Matt Ward; 5. 12W-Dale Wester; 6. V8-Robert Vetter
B Feature 1 (10 Laps): 1. 11S-Joe Wood Jr; 2. 6-Ryan Beechler; 3. 25-Blake Hahn; 4. 32K-Robert Richardson; 5. 4X-Shawn Petersen; DNF 16-Koty Adams
B Feature 2 (10 Laps): 1. 17-Aaron Reutzel; 2. 69-Larry Howery; 3. 26S-Howard Moore; 4. 12W-Dale Wester; 5. V8-Robert Vetter; 6. 2-Randy McKinney; DNF 45-Martin Edwards
A Feature (25 Laps): 1. 48-Jake Martens; 2. 9-Gary Wright; 3. 29-Travis Rilat; 4. 11S-Joe Wood Jr; 5. 74E-Claud Estes III; 6. 6-Ryan Beechler; 7. 21T-Ray Allen Kulhanek; 8. 3H-Brandon Hanks; 9. 1X-Matt Ward; 10. 26S-Howard Moore; 11. 23-Seth Bergman; 12. 25-Blake Hahn; 13. 11-Justin Melton; 14. 17-Aaron Reutzel; 15. 11G-Mike Goodman; 16. 69-Larry Howery; DNF 11C-Matt Covington; DNF 27-Andy Shouse; DNF 0-Andy McElhannon; DNF 22-Koby Barksdale
Photo Credit: Thriller Photography
---
Submitted By: Bryan Hulbert
Back to News