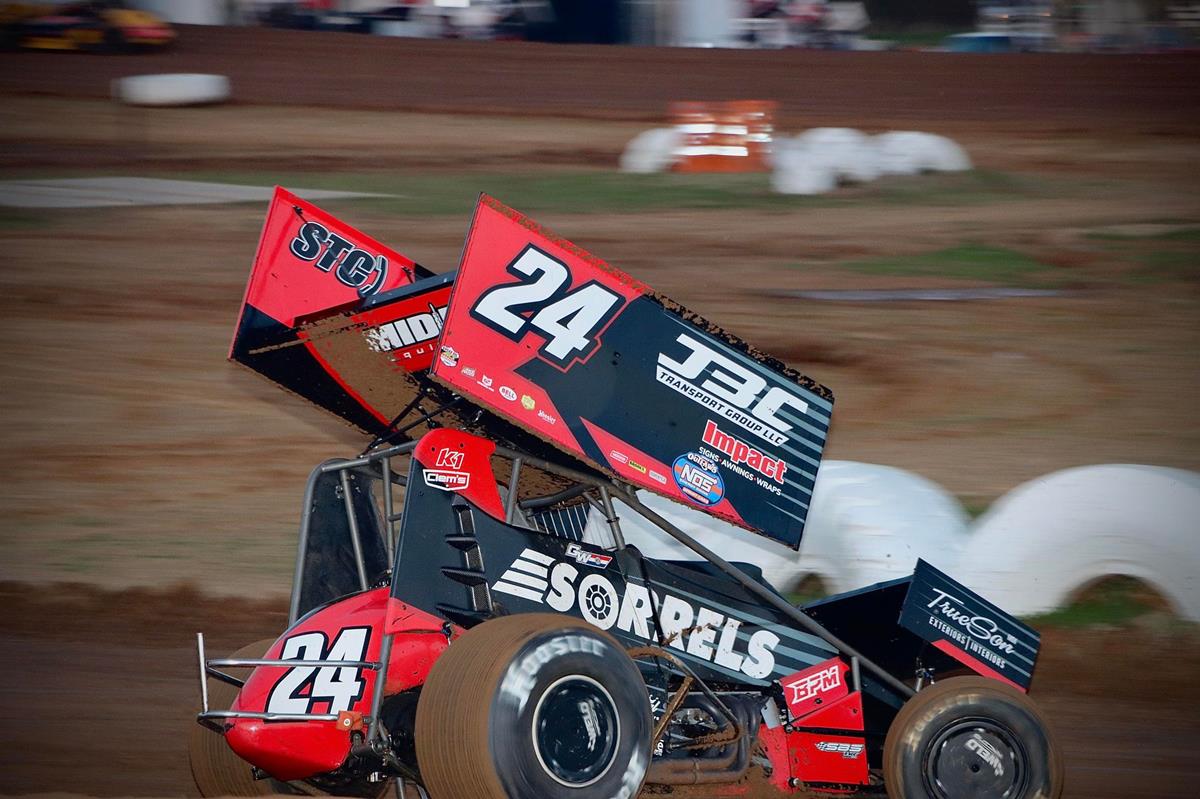 6/20/2022
Inside Line Promotions
---
Williamson Ties Career-Best ASCS National Tour Result With Second-Place Outing in Arkansas
(Photo by Jones Sports Media)
Inside Line Promotions – GREENWOOD, La. (June 20, 2022) – Garet Williamson tied his career-best Lucas Oil ASCS National Tour result last Friday when he placed second at Texarkana 67 Speedway.
The Bryant Paver Motorsports driver set quick time in his group and advanced from fourth to second place in a heat race to garner the pole position for the main event during his debut at the track in Texarkana, Ark.
"We were really good all night on Friday," he said. "In the feature we hung with (Derek) Hagar all race. In traffic I barely got in front of him on the frontstretch. I figured if I could get in front of a lapped car and chopped his nose it would have won the race for us because that's how big of a factor lapped traffic was. They missed the bottom and Hagar snuck underneath them and got back by us. If they had hit the bottom I'd have come out of turn two with the lead."
Williamson officially led Lap 11 before dropping back to second the ensuing lap.
"All in all, it was a good night," he said. "It was a good points night and it was good to get a podium out of the way. Last year I think it took late in the season to run up front with the series."
Williamson was also in contention for a top five on Saturday at Boothill Speedway, where he timed in second quickest in his group and finished fourth in a heat race to line up 11th in the A Main.
"In the heat race I was running third and tried something and ended up getting passed," he said. "With the way the format is it buried us in the feature. Everybody was rolling the bottom. It won't win you races doing that when you're starting 13th so we committed to the top and we were making up ground. Coming to the white flag we were passing for fourth and got over the cushion and up into the wall. We had hurt the Jacob's Ladder early in the race. It was real technical up there. When I hit the wall that last time it really damaged our car and I limped it to the finish."
Williamson was credited with a 13th-place result.
He ranks third in the championship standings – only 35 points out of second place and 92 points behind the leader – entering a doubleheader this Friday and Saturday at I-70 Speedway in Odessa, Mo.
"Our big track program with the 360 has been really good," Williamson said. "Also, I think I'll be one of the only drivers with laps there recently so I think any time you can get some extra laps on people it'll help."
QUICK RESULTS –
June 17 – Texarkana 67 Speedway in Texarkana, Ark. – Qualifying: 1; Heat race: 2 (4); Feature: 2 (1).
June 18 – Boothill Speedway in Greenwood, La. – Qualifying: 2; Heat race: 4 (3); Feature: 13 (11).
SEASON STATS –
30 races, 1 win, 11 top fives, 19 top 10s, 23 top 15s, 24 top 20s
UP NEXT –
Friday and Saturday at I-70 Speedway in Odessa, Mo., with the Lucas Oil ASCS National Tour
MEDIA LINKS –
Twitter: https://twitter.com/BPMotorsports24
Facebook: https://www.facebook.com/BPMotorsports24
SPONSOR SPOTLIGHT – TrueSon Exteriors & Interiors
TrueSon Exteriors & Interiors is a locally owned and operated premier home remodeler dedicated to providing the highest quality and outstanding service to its customers throughout the region surrounding Columbia, Mo. For more information, visit http://www.TrueSonExteriors.com.
"We're thrilled to have TrueSon Exteriors & Interiors on board," Williamson said. "We're excited to grow our partnership and show the loyal dirt racing fans throughout Missouri the value and expertise of using TrueSon Exteriors & Interiors on their next remodeling project."
Williamson would like to thank Mid-Mo Equipment, Housby, JBC Transport Group, LLC, TrueSon Exteriors & Interiors, Royal Power Sports, Sorrels Auto & Truck Parts, Schure Built Suspensions, Impact Signs, Awnings, Wraps, Searsboro Telephone Company, Schooler Construction, Dash Detailing, Lindsey Rentals, SNAP, Clems Signs and Maxim for their continued support.
INSIDE LINE PROMOTIONS –
Inside Line Promotions specializes in affordable public relations and media management for motor sports drivers, teams, sponsors, tracks, series, events, organizations and manufacturers. ILP Founder Shawn Miller leverages professional journalism with new media technologies and social networking to improve your exposure and the return on investment for your sponsors.
To meet the media relations needs of your program by joining Team ILP, contact Shawn at 541-510-3663 or Shawn@InsideLinePromotions.com. For more information on Inside Line Promotions, visit http://www.InsideLinePromotions.com.
---
Article Credit: Inside Line Promotions
Submitted By: Shawn Miller
Back to News